June Polls Are In. The Rioting Has All But Guaranteed A Trump Landslide In November
The riots have not been good for Democrats.
New polling released shows President Donald Trump crushing Biden in 6 battleground states for the general election. The polling showed Trump leading sleepy joe in Florida, Iowa, Michigan, Minnesota, Pennsylvania and Wisconsin by 50 percent to 44 percent.
Some of these states went to Hillary in the last election, which is bad news for Biden.
President Donald Trump's decision to brand Antifa terrot group "terrorists" had got a whopping 56 percent approval rating while the same exact number think Biden has not been strong at all in condemning the past week's violence.
63% of Americans also said they want law and order prioritized with less than 35% wanting inproved police relations with African Americans prioritized.
Democrats have also now made defunding the police a priority, even though 73% of Americans opposed the move.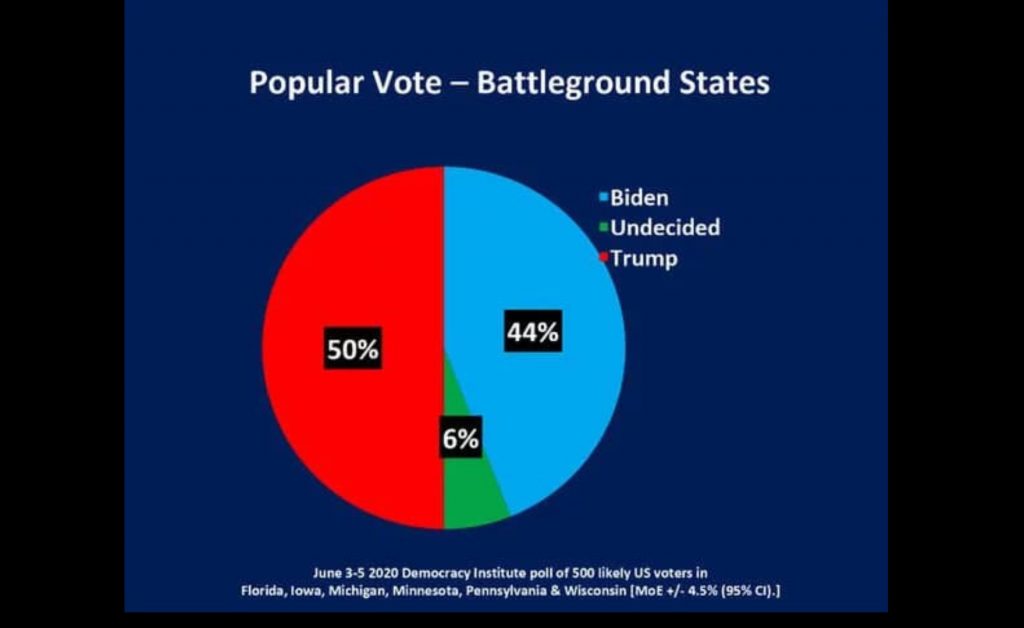 Democracy Institute/ Sunday Express poll
Should government prioritise law & order on city streets or prioritise improving relations between Black Americans and the police?
Law & order = 63%
Improving relations between Black Americans & police = 32%
Do you support de-funding your local police department?
Will Trump or Biden do a better job of standing up to China?
Will there be a significant economic recovery this year?
Yes = 62%
No = 38%
Don't Know = 13%
UK Theme
Is the UK this country's most reliable ally?
Yes = 58%
No = 30%
Don't Know = 12%
What is your opinion of British Prime Minister Boris Johnson?
Favourable = 51%
Unfavourable = 30%
Don't Know = 19%
Will Brexit be good or bad for the UK?
Good = 43%
Bad = 33%
Don't Know = 24%
Would a UK-US trade deal be a good or a bad idea?
Good = 55%
Bad = 33%
Don't Know = 12%
Poll Methodology
The fieldwork for this survey of a randomly selected national telephone (landline and cell) sample of 1,500 likely voters was conducted by the Democracy Institute's polling unit from June 3rd to June 5th 2020. The survey was conducted via interactive voice response, in which recorded questions were played for randomly-dialled respondents and answers were given via their telephone keypads. The poll has a margin of error of +/- 2.5 percent at a 95 percent confidence interval. To ensure a representative sample, the results were weighted for key demographic and political variables including, but not limited to, party identification, gender, age, education, income, region, voting history, and cell phone-only households. The party identification turnout model is: Democrats = 38 percent; Republicans = 38 percent; and Independents = 24 percent.
The full poll can be seen here
.