Here Is The Plan For The July 4th Liberate The Occupation Zone In Seattle Rally
So it's been making the rounds on media and in the form of memes. A bunch of bikers going up to CHAZ in Seattle and liberating the fallout raider camp they call an autonomous zone. But here's the facts and fiction from those actually putting it on.
Hells Angels and the Mongols have not said they are participating. This was started as a meme by a third party unaffiliated with this event. Though there are Hells Angels who have privately said they're going, no chapter has said such. They would be welcome if they did decide to join.
Bikers For Trump is not participating either. An initial confusion started with this when members of Bikers For Trump told Prntly that they would ride up and retake CHAZ. We originally listed the event as Bikers For Trump hosting it, but were informed that the actual organization was in fact not looking to be involved. Still, the initial rumor caused thousands of actual bikers who support Trump to say that they would be going.
The event is happening on July 4th. July 4th was picked for a number of reasons. Mainly to give everyone who wants to go time to actually prepare for this, and word to get out to enough patriots.
The main goal is to rally in the CHAZ and flag wave, pick up trash, clean up the CHAZ, remove barricades, and return the police station to Seattle control. Since this event started, CHAZ has been downsized to only 3 blocks, and the police station has been returned to Seattle Police Department. Also the barricades have been replaced by the City of Seattle with concrete barriers, so removing them may not be as possible.
The rally is to tell Councilwoman Sawant we don't want her antifa chaos and Socialism across America. The infamous socialist councilwoman Sawant has said she wants to bring socialism into middle America. She encouraged the rioting and protesting. She even got pepper sprayed, and has now had it banned. We rally against her, and in support of America.
People have been physically assaulted and choked for preaching in the zone, and walking with US flags. This is also an assault on all things American, and as Americans we will do both in the zone to show that we Americans have as much a right to do so there a we would anywhere else.
We want rioting and looting to stop. Nobody how many people are killed by police, there is never a justification in a Democracy like America's to riot, pillage, loot or kill. All 4 have been justified by Antifa rioters because they are upset over George Floyd, or pretend to be upset over George Floyd.
We'll meet at Centurylink Field to stage. We'll then march 1.7 miles to the CHAZ. Those not up to the march are welcome to meet as somewhere along the route. We are going to support the people in Seattle who don't like the rioting and looting. And those who support Law and Order.
Seattle is a very liberal city. It could be considered hostile territory for a Republican. But there are Republicans in the city, and we will march to support them, as well as Democrats who don't support the chaos.
We'll meet at Centurylink Field all morning on July 4th. Then a bit after noon, we'll march to CHAZ.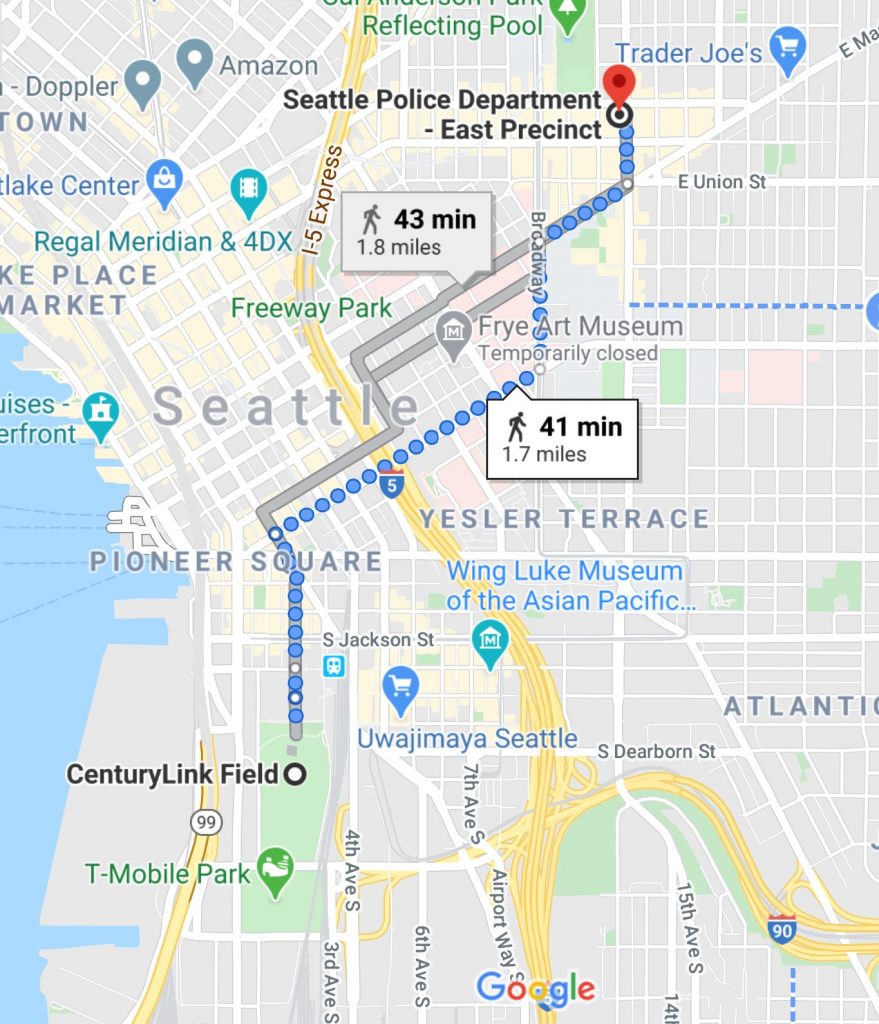 .