A Student Recorded His Professor To Prove Her Liberal Political Bias. She Had Him Arrested
A student is facing felony charges for recording his professor in a meeting to show her political bias. The student felt that his professor was being discriminatory against him due to his conservative views. So he recorded a conversation on University grounds to prove it. Now the university had him arrested for felony wiretapping charges.
The student, Jared Schafkopf, attended Indiana University Of Pennsylvania in southwestern Pennsylvania. He alleges that his professor, Rachelle Bouchat, showed heavy bias towards him after he wore a MAGA hat to class. She gave him bad grades, wouldn't call on him in class, and her passive aggressiveness towards him was so much, that other students even remarked on it to him outside of class.
She also had him charged with disorderly conduct charges, because as she put it, she feared for the safety of herself and her children.
In an email to the website The College Fix, Jared told them " This radical left professor has no problem destroying my future and the university that is supposed to get me ready for a career is letting me be discriminated against for being conservative and letting a professor ruin my future with a felony for simply confronting her in a calm polite way. "
Since Pennsylvania is a 2 party consent state, it requires both parties to consent to recording a private conversation. Jared contends that since it was on public university grounds, in a public classroom with an open doorway to a bushy hallway, it was not private.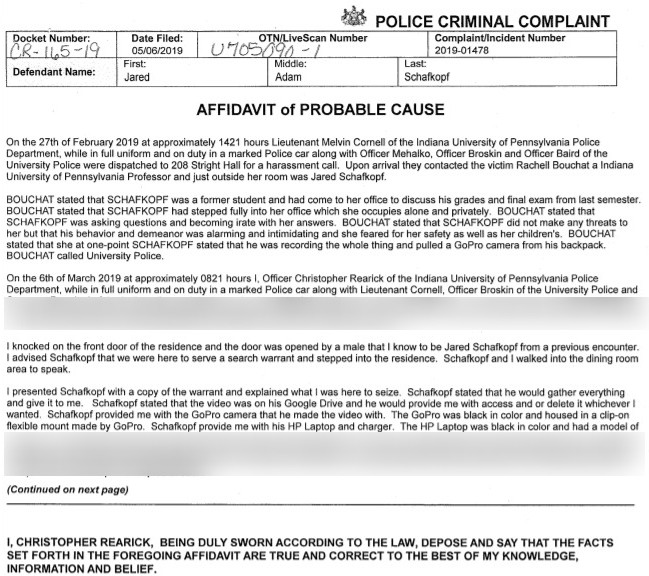 Police officers actually showed up to his house, removed all of his electronics related to the recording, and confiscated the GoPro used to make the recording. He's also been instructed that he can face new charges if he releases the footage.
If you want to help Jared, you can call the Indiana University Of Pennsylvania and let them know what you think of their discrimination, the DA's office, or the Indiana, Pennsylvania police department.
He also has a GoFundMe setup below: