Politicians Who Passed Mask & Quarantine Mandates Are Wondering Why They Have No More Tourists
Politicians in states like New York and Hawaii, two of the most draconian states for Covid-19 responses, are wondering why they have no tourists. Now they want to do something about it.
Hawaii for example has especially begun going into full panic mode. The island state's economy has begun collapsing, with thousands of businesses and hotels closing. The state's unemployment rate is now the third worst in the nation.
This would come as no surprise to outside spectators who watched in awe this year as the island took a draconian, dystopian approach to Coronavirus. The Governor demanded all tourists who arrive on the islands self quarantine for 2 weeks, longer than any vacation would be.
They then strictly enforced this, arresting anybody who violated the rules, even if somebody went walking alone on the beach.
In all, over 180 people were put in handcuffs and charged with misdemeanors for breaking the orders, causing fearful tourists to steer completely clear of the islands.
Now crime and unemployment are skyrocketing and the islands are facing their greatest challenge yet.
So the state is trying to finally lighten up on it's dystopian response. The Governor has issued an order allowing new arrivals to the state to be tested for covid, and if negative, then the tourist can now bypass the 14 day quarantine requirement.
"Visitors will likely notice that beaches and parks are less crowded than normal. Most will be open with restrictions, which vary by county," Lei-Ann Field, of the Hawaii Visitors and Convention Bureau, told CNN today.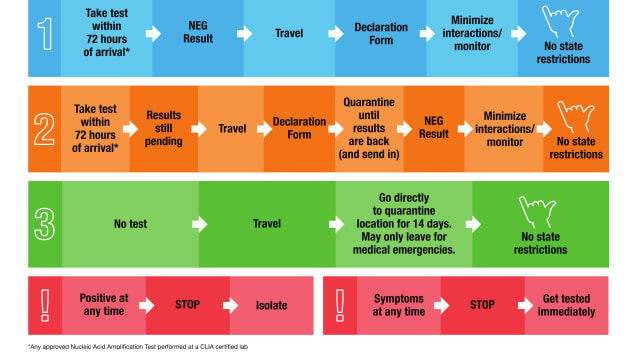 In New York, the state comptroller complained of falling tax revenue typically generated by tourism. The state was already in a deficit before Covid.
.