Sanders Holds Rally Where He Allows Underage Drinking & Drug Use To Win Kids Over
Bernie Sanders held a campaign rally in Cedar Rapids where music played and kids went wild. Video and photos taken of the image show college kids getting drunk, have reporters talking of lots of illegal drug use, and AOC slamming capitalism.
Adam Edelman of NBC news said in a story on the event " Fans danced gleefully to music while guzzling beer. Smiles abounded and deafening cheers arose without warning. And, in the restroom, someone was smoking what smelled like marijuana. "
"It's awesome," she said. "Totally awesome." Said one attendee named Evelyn Smith of Maquoketa, Iowa.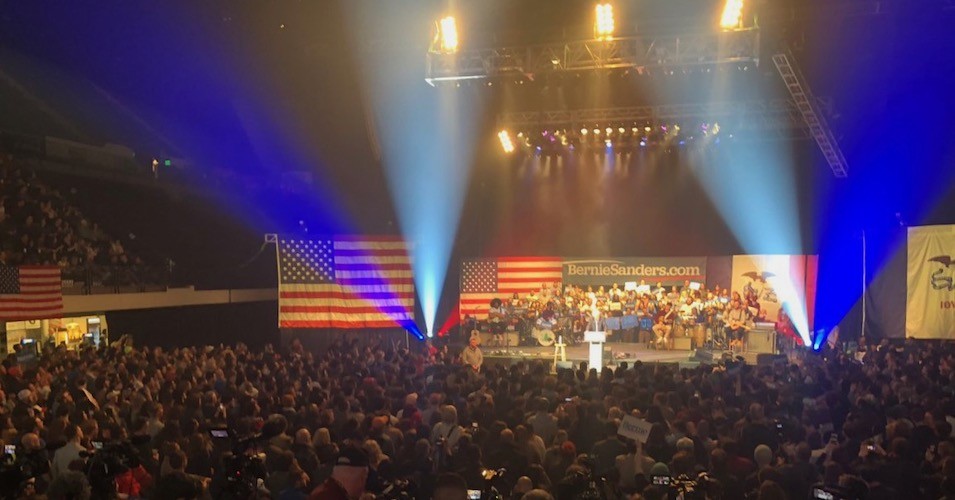 "I still believe that Bernie can win & it's brutal seeing how much energy goes into convincing voters that one of the most popular politicians in the country (and the one who polls best against Trump) is unelectable," Ezra Koenig wrote on Instagram earlier this week.
"I don't feel like I'm separating my values and my pragmatism by supporting Bernie and neither do millions of others ! Anyway, Bernie's still the landslide favorite among people 35 and under (across racial and gender lines) so talk to your older, skeptical friends and family about why Bernie can actually win."
Aside from getting the youth drugged up and drunk, reports of other shenanigans have come out regarding other dishonest tactics by the Sanders campaign. Politico wrote an article that says the Bernie Sanders campaign plans to use some trickery on election day with the delegate count by secretly spreading disinformation before the final votes are counted saying that Bernie has won the Iowa Caucus. Doing so would lead some voters to think the a victor has already been chosen when in reality voting hadn't ended yet.
Aides with two seperate frontrunner campaigns told Politco that they have good reason to belief that the Bernie campaign was planning the move.
"We have had private, ongoing conversations with multiple campaigns to ensure caucus integrity and voter protections are upheld. It is critical that no campaign undercut this democratic process with self-serving election interference," a Biden campaign official said in a statement to POLITICO. "And the press should certainly not gratify any dishonest attempt to distort the process before it is finished."
The Sanders campaign refused comment on the allegation.
.