As Iranians protest against the regime, American liberals protest in support of the regime
Confusion in the world of politics this week. Across the United States, anti war activists aligned with the Democratic party protested in support of the Iranian Regime. In Washington, a large rally of thousands rallied to support the Ayatollah and condemned the air strike against the Iranian Quds Forces Commander as he left Baghdad International Airport in Iraq last week. The White House said they had evidence he was planning attacks on the US embassy, and was behind the attempted takeover of the US embassy in Baghdad last week.
In response, over 200 marches were planned by left wing activists across America.
Jane Fonda spoke at a rally in DC yesterday as well, claiming "we're building an army." She then encouraged civil disobedience to the audience, and many protesters listened; 146 were arrested.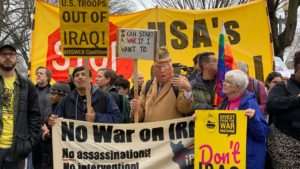 Some anti war protesters attempted to raid the Trump Hotel in DC but were stopped by police.
But as protests come out in support of the Iranian Regime's top General, in Iran, it's another story.
see also:
Breaking News: United Kingdom Claims Iran Briefly Detained Ambassador; Iran Capital descends Into Turmoil
In the wake of the Islamic Republic of Iran admitting to shooting down a Ukranian passenger jet airline as a result of "human error," twitter has been bombarded with videos of iranians taking to the streets calling for a removal of the dictatorship.
Iranian local Alireza Azami posted video in Tehran showing students filling streets and stopping traffic, chanting "down with the regime."
What's unusual about these protests is that they are happening right after the death of the Quds Forces General Qasem Soleimani.
According to protestors on the scene in Tehran, riot police and soldiers are attempting to clear the streets with tear gas and rubber bullets. There's no reports yet of injuries but if the regime response is at all similar to that of the last wave of protests across the country in November, hundreds or thousands may be wounded or killed.
"They were so careful not to kill any American in their revenge for Soleimani. But they did not close the airport? This shows how much this regime cares for Iranians," said an Iranian citizen named Mira Sedaghati.
"This is not human error. This is a crime against humanity," said exiled Persian Crown Prince Reza Pahlavi on Saturday. "He who has irresponsibly empowered his thugs to fire at will at innocents bears full responsibility. #Enough_is_enough. Khamenei and his regime must go."
.