Mercari Suspends Users For Selling "Impeach Biden" Items
Mercari may have come out today as the biggest tech tyrant of them all. Today Mercari suspended conservative online retailer Prntpage.com's mercari account for selling Impeach Biden Bumper Stickers. The Prntpage.com account was suspended and an email announcing the suspension said this:
"Item name: 10 pack impeach biden bumper stickers
Item ID: m25652477462
Price: $10.00
Hi prntpage,
It looks like you may have a listing containing an item that may promote violence, racism, or hate.
Per our Terms of Service, listing items that promote or are associated with hate groups is prohibited on Mercari.
We have removed your listing and any similar listing you created.
Your user privileges are currently limited pending account review.
Please allow 24 hours for our Escalations Team to review your case.
Thanks for understanding,
Team Mercari"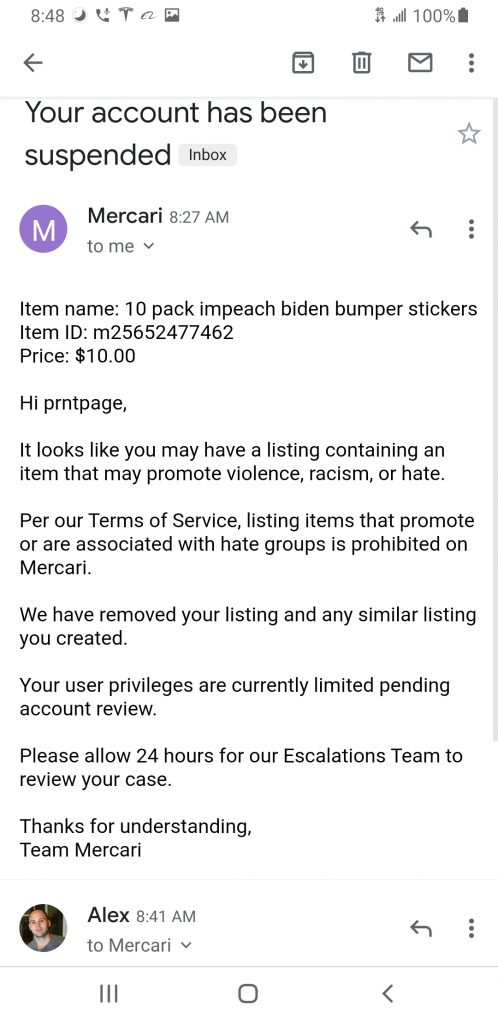 We reached out to Mercari's press department about this, but received no response. Prntpage.com's owner, Alex Portelli, said this statement to Prntly: "the left has been free to scream and yell and protest and violently assault Trump supporters for over half a decade, all while calling us fascists. But as we see, now that they are the ones in power, they have become bloodthirsty for it. They are more fascist than conservatives will ever be. Conservatives want low taxes, freedom of choice, a society protected from those who wish to harm it, and a focus on America. The left wants to control your life based on what they think is best for you, force government policies on you that infringe on your freedom, the silencing of opposition, and to financially ruin those they oppose. Luckily conservatives are now building a tech infrastructure that that will free us from these oppressions. But if we know the fanatical communist left, everything we will build they will try to come after."
*to support prntly, share this article on your social media page. Help us spread the right news.*
.